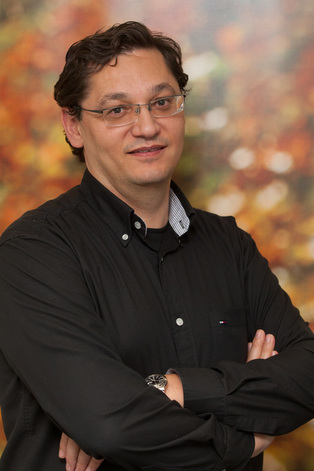 José Víctor Orón

​


Director

José Victor Orón Semper was born in 1968 and is an Piarist Priest. After completing his studies, he worked in schools and in extra-school educational activities for 14 years, accompanying adolescents' personal growth. He has also participated in training educators, camp directors, and school coordinators, and in educational programs for personal growth and affective-sexual education that focused on adolescents. His Order later asked him to participate in an international group dedicated to research in order to improve their educational ministry. Thus, he began the research activities in which he currently works.​

His studies include a bachelors and masters in engineering (Canal and Ports Engineering from the Polytechnic University of Valencia, 1997). He also holds a Bachelor of Religious Studies and a Bachelor of Theology from the University San Vicente Ferrer, Valencia (2001). He completed a Master in Neuroscience and Cognition from University of Navarra in 2013 and a Master in Bioethics from the Jerome Lejeune Chair in Madrid in 2015. He holds other degrees in education (Polytechnic University of Valencia, 1998) and personal accompaniment (University of Comillas, 2007). He is currently completing his final year as a PhD student and will obtain an international doctorate, with a thesis on emotional education, from the University of Navarra.

His research is developed within the Mind-Brain Group (Institute for Culture and Society, Unviersity of Navarra) that fosters an interdisciplinary dialogue on philosophy, neuroscience and psychology. His research includes topics such as human development characterized by the personal and relational nature of human beings, on which he collaborates with professors from the University of Reading, United Kingdom, and, since 2012, emotional education and integration in the service of human growth. He is the creator and director of UpToYou, an emotional education program development in Spain, Brazil and Cameroon.

José Victor Orón has undertaken research stays at the Universidad del Desarrollo (Chile) in 2014 (two months), developing protocols for EEG measurement in emotional management. He also was at the University of Reading (UK) in 2015 for four months developing a review of current models of human development and formulating a new proposal.

He has received scholarships from three institutions, including the company GEDESCO (2012-2015), from ICS University of Navarra (2014-2015), and the Caja Navarra Foundation (2015) with an Excellence Grant. His projects include the implementation of the UpToYou educational program for emotional education, funded by the Caja Navarra Foundation (2014-2015).

José Victor Orón has published six articles, one book chapter and one book. He currently has six articles and one book under review that focus on issues related to education and human development in journals on neuroscience, philosophy and psychology.

José Victor Orón has participated in seven international conferences on educational issues and human development.

He was a Visiting Professor at the Catholic University of Chile in 2012, the San Pablo CEU University of Valencia in 2012 and at the Catholic University of Valencia during 2011 to present.
​
Ongoing projects: Teacher training on emotional issues in various schools in Spain and Cameroon. He is the director of the UpToYou program in several countries. He is working on defining measurement tools for emotional development. José Victor Orón is also working on developing a psychological proposal on the inter-processual self in human development. He is the coordinator of and professor within a degree program on affective-sexual education at the Catholic University of Valencia.
Irene Latorre Ibáñez

Project manager
​Irene Latorre Ibáñez, born in 1989, has a degree in Business Administration and Management with international projection by the Public University of Navarra. She completed part of her studies in Slovenia (University of Primorska) where she later worked during a 3 month stay. She then completed the Higher Program in International Trade Management at Esic Business School.
Her career has focused on projects and funding for non-profit organizations.
Passionate in the world of emotional education, she works to get UpToYou to reach every corner where there is a student and an educator wanting to make the most of their relationship.
Self-taught and hardworking, its work includes the search for partners, program dissemination, marketing and all initiatives that promote the visibility and impact of UpToYou in society.
Débora Bezares Fernández




Responsible for design
Débora Bezares Fernández, born in 1983, she earned her undergraduate degree in Architecture from the University of Navarra (2008), a master's degree in Architectural Design (2010) and is currently completing her doctorate at the same university. She collaborates with several architectural projects such as Group "AS XX" and "AREA", both created to support and promote architecture.
As a married woman and mother of eight children, she has always taken an interest in education as a respectful relationship with the other. In that sense, she has found in UpToYou a way to face and make sense of relationships with others from an integrated way, considering one's self.
In the UpToYou team, she collaborates with the Editing Team, mainly designing and drawing. Among her projects, she is also working on the future setting of "UpToYou 's School for Parents".
Inmaculada Lizasoain Iriso




Responsible for the Syllabus team
Inmaculada Lizasoain Iriso, born in 1964, earned her Degree in Mathematics from the University of Zaragoza and her doctorate from the Public University of Navarre, where she has been a professor for more than twenty five years in several Engineering degrees. She is currently teaching Mathematics courses at the Bachelor's degree in Primary Education and she tutors the students during their working experience in schools places. In the year 2015 she launched a postgraduate degree entitled "Maths specialist for Primary Schools" to work with new teaching methods in this discipline focused on concepts comprehension and problem solving.
Since she discovered UpToYou ´s emotional education program she has been trying to put it into practice in her lessons, realizing that a new way of relating with students is possible at University as well. She collaborates with the UpToYou program designing maths activities for the syllabus, taking into account this new way of understanding emotional education.
Carolina Sáez García




Responsible for the Assessment team
Carolina Sáez García, born in 1994, a Primary Education teacher since 2016 with a Master's Degree in Special Education from the University of Valencia. She loves teaching and she takes a special interest in teaching people who have learning difficulties.
Since she discovered UpToYou she values emotional education much more and she asserts that it is the key to personal growth. That's why she fights for every educator to be well trained in this field, encouraging them to do the UpToYou formation course.
Her main responsibility in the foundation is to elaborate the exams for the formation and coordinate the assessment team. Since UpToYou is focused on the person and their growth, as the manager of the Assessment Team, Carolina makes sure that every person who attends UpToYou `s courses has properly understood everything.
Miriam Cenoz Larrea




Assistant
Miriam Cenoz Larrea, born in 1994, she earned her Degree in Spanish Philology from the University of Navarra, she also completed her Master's Degree in Secondary Education Teaching at the Public University of Navarra. She is currently working as a Spanish and Literature Secondary Education teacher at Irabia-Izaga school (Pamplona).
With a humanist profile, her interest in emotions and emotional education was born in 2012 when she started researching the topic of emotions in literature and its teaching applications from an emotional perspective.
Her current role in UpToYou is focused on supporting and assisting at workshops and formation courses carried out in different places and designing curricular implementations of the Spanish and Literature subject based on the emotional concepts which UpToYou works with, establishing connections among contents, personal growth and interpersonal relationships, from a human and integrating point of view.
Agustina Zapatería Garcés




Assistant
Agustina Zapatería Garcés, born in 1961, is a teacher at the state school for Primary and Pre-School Education "Sancho Ramírez" in Arguedas (Navarra).
Most of her career has been focused on teaching first and second year pupils at Primary Education level, together with eight years working as head of department and ten years as headmaster at of the same school.
Her constant need of improvement has led her to attend different courses on coexistence/community. For her, discovering UpToYou has meant finding the real purpose of education: an education focused on the person, the personal growth of the educator and the child. Her gratitude for the project has led her to collaborate with it.
Celia Ortega Giménez




Assistant
Celia Ortega Giménez, born in 1995, has a degree in Primary School Education from the University of Valencia. She also has a long career in the field of Leisure Education as instructor and summer camp coordinator. She is particularly interested in the innovation of teaching approaches and the use of technology in the classroom.
She is shelf-driven and has a great enthusiasm for education and psychology. She is qualified as an "Expert in Children's Psychology: specialised in children's behaviour and development" and she is currently taking courses in this field of knowledge.
Emotional education is a starting point for one's own growth and to help us make others grow, and that is one of Celia's motivations. As an UpToYou assistant, she helps the editing team while she also lends a hand to carry out some workshops to bring UpToYou closer to personal experiences.
Andrew Berinyuy




Assistant
Andrew Berinyuy, born in Kumbo (Cameroon), Cameroonian piarist. He has a Bachelor's degree in Philosophy of Education from the Catholic University of Central Africa, Yaounde, affiliated to the Salesian Pontifical University, Rome. He has too a Bachelor's degree in Theology from St. Cyprien's Theological School, Yaounde, affiliated to the Teresian University in Rome and a Master's degree in Educational Administration and Leadership from Fordham University, New York, USA.
Currently working as a teacher and a member of the Orientation Council at School for Professional Technical Training where most students are teenagers.
UpToYou program helps him at two levels: first it will give him tools to better understand himself and improve his relationship with others. Secondly, it will help him to understand others, especially students (adolescents) and consequently ameliorate the way he teaches.
Judith Jiménez Aragón




Responsible for the Public Education Team
Judith Jiménez Aragón, born in 1967, earned her degree in Special Education Teaching from the University of Zaragoza. She later completed a Post-graduate degree in Speech-Language and Hearing at the same university and earned a degree in Pre-school Education from the UNED (Spain's Distance Learning University). For more than twenty five years, she has worked in several state schools in the Basque Country and Navarra. She is currently working as a Pre-school teacher at the CPEIP Sancho Ramírez in Arguedas, where she is also the headmaster.
She is non-conforming and has a great enthusiasm for education; she has found in UpToYou a human approach which she fully identifies with, since she believes that the person should be the core of education and she also highlights interpersonal relationships.
Having understood the change and contribution to education that UpToYou introduces, she explores different initiatives so that it can be known in different spheres of the Public Education.
Marcos García Salguero




Assistant
Born in Madrid in 1966, he is now a resident in Pamplona. He is a therapeutic pedagogue. He studied at the University of Navarra and he completed his Master's Degree at the Complutense University of Madrid.
He carried out his work at the Clínica Universidad de Navarra in the department of Neuropediatrics and Otorhinolaryngoly within the program of cochlear implants. He had his own psychopedagogy office for almost 10 years. He is currently working as a counsellor for the Secondary Education students at the Irabia-Izaga school in Pamplona, where he also does some tutoring and teaches the elective class of photography. He is also the person responsible for behaviour issues at the same school.
He is very interested in teenagers' psychology and their personal and social development.
UpToYou provides him with a new approach which complements and supports his work offering some points for reflection for his counselling work.
Ana Perelló Cervera




Voluntary work
Ana Perello, born in Valencia, she has a Degree in Primary Education and Nursery. She is currently studying a Degree in Psychology at the Catholic University of Valencia.
She is very interested in how emotional education at any life stage can help people to better understand their reality and therefore improve their relationships and grow freely. She has experienced as a national and international volunteer, working with people at risk of social exclusion, lacking freedom or those victims of violence.
She has found in UpToYou a way to get to know herself better and grow. She supports this program because of the total respect it has for each person's growth.
Cristina Magdalena Mora




Assistant
Cristina Magdalena Mora, born in 1979, married and mother of 4 children. She has experience in organizing events and volunteering with children, young people and adults at risk of social exclusion, promoting personal growth and motivation for functional activities for a better social, working and family future. She collaborated with the AMICS association helping people with Functional Diversity increase their self-esteem and motivating them to be autonomous.
She has found in UpToYou a new way of getting to know herself through the study of emotions and helping others. She is really interested in UpToYou reaching every person with addictions or people cannot find a meaning to their lives. Enterprising and hardworking, her role in UpToYou is helping organize workshops and developing some Marketing Projects.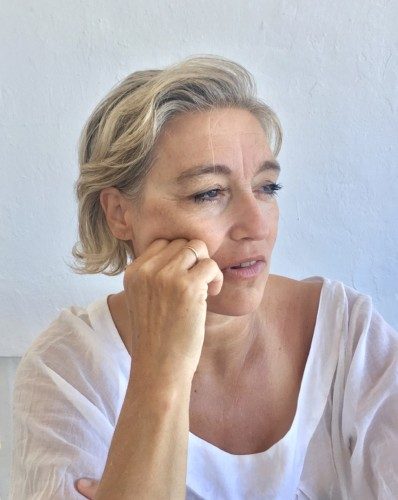 Teresa Tamarit Peris




Assistant
Born in 1967, she has a degree in Tourism and PR. She also earned a certificate in the training of teachers, parents and catechists for the formation in the Catechesis of the Good Shepard, a project founded by Sofia Cavaletti and Gianna Gobbi based on the Montessori pedagogy.
She also works weekly with a group of children ages between three and twelve, sharing the Montessori experience of this catechesis.
Her career with the Montessori project includes several formation courses with the guidance of Collette Chaumier and the participation in Montessori sessions at the Valencia Montessori School as an observer.
She has worked at the public school Joan Fuster in Valencia in the training of teachers with the course "educating adults in the Montessori environment".
She has worked for three years during the month of August in the training of the whole teaching staff of La Encarnación school in Santander in the Catechesis of the Good Shepard and the Montessori environment.
She is a fervent enthusiast of the emotional education project UpToYou and she currently collaborates with it, sharing her Montessori pedagogy knowledge and the experience she has acquired throughout the eight years she has been working with young children and discovering with them the extraordinary world that is emotional education.